Utah Electrical Services For Tract Homes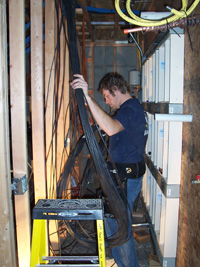 At Hepworth Electric, we are know for providing top electrical service for tract houses throughout the greater Salt Lake, Utah and Wasatch counties.  We have experience with working with builders and developers to deliver their customers top electrical wiring services from standard housing wiring to complicated home theater systems.
Our licensed electrical technicians have the knowledge and skill necessary to quickly and efficiently solve your tract home electrical needs.
Contact Spencer or Jeff to request a bid on your project.
Call us today at 801.344.8577!
Schedule an Appointment
Best Electrical Service in Utah, Available 24/7
At Hepworth Electric we're commited to providing the best electrical service around and we do this by hiring only the industry's top professionals. Each of our certified technicians are drug-tested, back-ground-checked, and receive top quality training.
Contact Spencer or Jeff to request a bid on your project.
Call 801.344.8577
Best in Small & Medium Commercial Business
Best in Residential Electrical New Construction
Since 1961 we at Hepworth Electric have made it our priority to care.  We imagine ourselves in your shoes and value your time and what that costs to you. Whether you are a contractor, homeowner, or both, we have your needs in mind.