Our Employee Promise
The success of any company can only be achieved through the dedication and strength of its people.  Below is the agreement that each of our employees make to you, our company and to themselves. 
OUR EMPLOYEE PROMISE
At Hepworth Electric, we are a team.  You are not just an employee, but a team member.  Please see yourself in that fashion.  Employees have jobs and are focused on getting pay checks, but team members have goals and are focused on winning.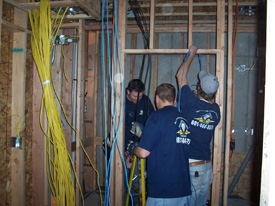 We believe that you are a team player–you wouldn't be here if we thought otherwise.  For us to be successful as a team there must be three winners in everything that we do.  That includes everything we sell, service and install, how we dress, communicate, act, and even how curteous we are when we drive trucks and how clean we keep them.
The three winners must win in this order:
First, he client must win.  They must be our first consideration in everything that we do.  Without clients, we wouldn't be able to support a team.
Second, you the team member must win.  If you are happy with your team environment and are providing for your family, then you will be able to make our clients happy.
Third, the team must win.  If the team doesn't make its goal, then it will be in danger of letting both the client and you, the team member, down.
It's important that you look at every aspect of what you do for the team with this philosophy and make decisions accordingly.  Our feeling is that once you understand the team's philosophy, there won't be a need to lay out pages and pages of rules for you to follow.
Many companies have exensive employee manuals with a ton of rules.  Our team has only a few simple and logical rules, and as with any set of rules, there might be different interpretations.  You are on our team because we felt that you would be able to interpret these rules with the "win-win-win" philosophy in mind, and thus would be an asset to our team.  We ask that you acknowledge your agreement to these ideas by endorsing this page.
Schedule an Appointment
Best Electrical Service in Utah, Available 24/7
At Hepworth Electric we're commited to providing the best electrical service around and we do this by hiring only the industry's top professionals. Each of our certified technicians are drug-tested, back-ground-checked, and receive top quality training.
Contact Spencer or Jeff to request a bid on your project.
Call 801.344.8577
Best in Small & Medium Commercial Business
Best in Residential Electrical New Construction
Since 1961 we at Hepworth Electric have made it our priority to care.  We imagine ourselves in your shoes and value your time and what that costs to you. Whether you are a contractor, homeowner, or both, we have your needs in mind.