Client Protection Plan
Extended Warranties
When you purchase a new car you would expect to have to put air in the tires, change the oil and check out any unusual noises, wouldn't you?  The concept of maintenance to lengthen the life-span of a product is nothing new.  We can look around in our everyday lives and see this; we clean our floors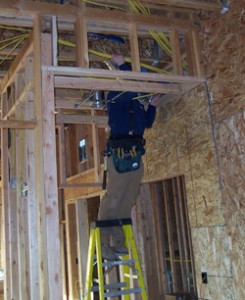 and carpet to keep them in the best condition for as long as possible, we maintain our heating and cooling system and change the filters so they run as efficiently as possible, we diet and exercise to do the same for our bodies.  Your electrical system is no different.  Just as a well running car can get better gas mileage and keep your family safe on the road, a properly functioning electrical system keeps you, your family, and your property safe.
Electronic Protection
There are many things that over the course of time can comprimise the integrity of your electrical system.  If not checked regularly these conditions can cause serious damage.  Some of the most damaging are lose connections, poorly installed devices, do-it-yourself projects that were mis-wired, electrical surges, ungrounded electrical system, proper safety devices not installed, etc. They can result in ruined appliances or electronics, electrical shock, fire and electrocution.  With our Client Protection Plan you'll receive benefits like scheduled maintenance, annual safety inspection and automatic safety updates, just to name a few.  We want it to be easy to make sure your home and family are safe from electrical fire and electrocution hazards.
BENEFITS OF YOUR CLIENT PROTECTION PLAN
Safety Savings:  You receive a discount on the products and services needed to bring your home up-to-date with the current safety standards recognized by the electrical industry from the NFPA to keep you and your family safe.
Automatic Safety Updates: The safety codes and standards change every 3 years.  We will come to your home and update your electrical system.
Annual Maintenance: Every year we will come to your home, test the power and tune-up your electrical panel.
Electrical Inspection:  Once a year we will perform a comprehensive electrical safety inspection and give you a report of our findings.
Extended Guarantee: We will guarantee our work as long as you are a member of our Client Protection Plan.
Priority Service:  When you call us for electrical service, you go straight to the front of the line!
Exclusive Specials: From time to time, you'll also be able to take advantage of special offers and exclusive discounts we give only to our Client Protection Plan Members.
A Home Value Booster:  Your Client Protection Plan is also transferable to a new owner if you sell your home, and the peace of mind it brings is a huge selling point.  Or it can move with you if you stay in our area.
Schedule an Appointment
Best Electrical Service in Utah, Available 24/7
At Hepworth Electric we're commited to providing the best electrical service around and we do this by hiring only the industry's top professionals. Each of our certified technicians are drug-tested, back-ground-checked, and receive top quality training.
Contact Spencer or Jeff to request a bid on your project.
Call 801.344.8577
Best in Small & Medium Commercial Business
Best in Residential Electrical New Construction
Since 1961 we at Hepworth Electric have made it our priority to care.  We imagine ourselves in your shoes and value your time and what that costs to you. Whether you are a contractor, homeowner, or both, we have your needs in mind.